What's the difference between a self-guided and fully-supported trip?
For all of our trips we will provide the following:
Accommodation in comfortable lodgings – from bunkhouse to B&B to luxury hotel
Transport to the start point and from the end of the trip to public transport networks or to your car
Baggage transfers between your accommodation each day
Flexible route choice to suit you and your group
Comprehensive maps and accurate GPS files of the route
Phone support
If you would like help fixing any bike problems or think you might need vehicle support then both our fully-supported trips also include:
Support vehicle containing tools and spares that can meet you along the way
What will I need to carry while I'm biking?
This varies depending on the trip you choose but you may need to carry enough water to get you through the day. There will often be places to stop for lunch during the day but if you're passing through very remote areas you may be required to carry snacks and lunch for the entire day. You should also carry any spare clothes that you might need. If you're taking part in a self-guided or independent trip you'll also need some spares and tools as well (see our kit list for details). On a guided trip your guide will provide the tools required.
What will the weather be like?
This is the toughest question to answer! We have a mild maritime climate in the UK and that means that it is very unpredictable. For most of the year however the climate is generally very good for cycling, never too warm, or too cold. It is possible to see rain at any time of year, day or night and we always recommend light waterproof layers (see our kit list for more details). General climatic information from Scotland is available here and up-to-the-minute weather forecasts from specific regions of the UK are available at the met office website.
What kind of bike should I use for the trip?
Will I be able to buy food along the route?
During the day you might be able to buy snacks and lunch as you cycle, depending on your route. This information will be detailed in your route information pack. If there is no opportunity to buy food during the day, your support driver (or info pack) will let you know that you need to buy food first thing in the morning to last the day and carry it with you.
What type of clothes will I need to bring for my biking trip?
The climate in the UK can be unpredictable, even throughout the summer months. It is best to be prepared for rain so bring a light, breathable waterproof jacket and plenty of layers in case it's cool and windy. Waterproof shorts are useful to have to prevent 'soggy bottom syndrome'! Waterproof trousers are ok but tend to get a bit sweaty if you're wearing them all day. Waterproof socks are a great invention and will keep your feet dry if you're splashing through puddles and rivers. Padded shorts are a very good idea. For a full equipment list see our 'Kit List' page.
Why do your coast to coast trips run from west to east?
Prevailing winds in the UK during spring, summer and autumn tend to come from the west. If you'd prefer to complete your C2C from east to west, we can arrange that for you, just be prepared for a headwind!
Are midges a real problem and what can I do to avoid them?
Midges are tiny biting insects that can be real nuisance, in the Northern parts of the UK. You won't notice them until you stop for a nice picnic on the banks of a loch or get a puncture in a sheltered forest. Basically, if you're moving more slowly than 3 miles per hour or the wind is blowing less than this, the midges will find you! For many people they're just a mild inconvenience and although they're bitten, there is no allergic reaction. However, for other people, midge bites will result in an intensely itchy spot, a bit like a mosquito bite, that will remain itchy for three or four days. You can take an antihistamine to reduce the itch but we'd suggest that it's best not to get bitten in the first place. There are many repellents out there that claim to be a miracle midge repellent, for example Avon Skin So Soft. You may prefer to use a bit of DEET and although it's not recommended for extended periods of time, it's pretty effective at deterring the little blighters! 20% DEET should be strong enough. Alternatively, keep covered up and they'll not get you.
What happens if I'm too tired to cycle the scheduled route or become injured?
If you're taking part in one of our self-guided biking trips, all you have to do is phone us using one of the numbers on your itinerary. We will be able to give you advice on how you can get from A to B without having to cycle. We can sometimes arrange for our couriers to transport you with your luggage. If not, we can arrange for a taxi to transport you instead. If you or one of your group is seriously injured, you should phone emergency services in the first instance, then contact us to let us know the situation and we will be able to help with logistics from there.
On a fully-supported trip, our back-up vehicle will never be more than half an hour or so away from your location. If you are fatigued or injured, find a warm, safe location to wait for back-up and phone your support driver with details of your location. Some of our mountain biking routes pass through very remote areas where you may not be able to get a mobile phone reception and there are no roads. You should be aware that in this instance you'll need to make you own way to a phone and a paved road. 
Do I need to do any training for my holiday?
Every one of our trips is graded from 1 to 8 to indicate the recommended fitness level for the route and graded from 1 to 8 to indicate the severity of terrain that you're likely to encounter along the route. Our mountain biking trips are also from Green to Black indicating the level of technical difficulty of the trails on each route. For more information please have a look at our Trip Gradings Explained page. These gradings are just a guide so that you can judge for yourself if the trip that you've chosen is the right one for you. For all our mountain biking routes, a level of off-road biking experience is required. If you want more specific advice on training then please just let us know.
If I'm hiring a bike, should I bring my own pedals?
When you're spending 7 hours a day on a bike, it's important to feel comfortable. If you usually ride with your shoes clipped in to spd style pedals we'd recommend bringing your own pedals and shoes if you're a keen biker. Otherwise, our hire bikes come with flat pedals which are great for normal flat-soled shoes.
Can I do laundry along the way?
Whichever level of accommodation you choose, there will be laundry facilities along the route. Sometimes your accommodation provider will be able to do a load of laundry for you or there might be a laundry close by. Please note that it will cost you around £10 to get a load of laundry washed and dried.
Where can I get money?
It's a good idea to bring some cash with you at the start of a trip as we are sometimes in remote locations. Along the route there will be cash machines or banks. For exchanging foreign currency the Post Office is a good location.
Bugs and ticks?
All of our cycle routes pass through remote areas of the UK so it is possible that you will encounter ticks. It is very unlikely that they will carry any disease but you should remove them as soon as you find them if they become attached to you. You can use a pair of tweezers for this or there are very effective tick remover cards on the market.
Power for phone chargers (type of adapter)?
In the UK we have a 3 pin plug and our standard power source is 230V. If you're coming from overseas you will need an adaptor to fit our plug sockets.
Does the accommodation have secure bike storage?
Almost all of our accommodation providers have storage areas for bikes, either under cover or out of the way in a yard. Most are in lockable spaces but it is advisable to bring a lock if you are using your own bike or to use the lock we provide if using a hire bike, for additional security.
What is included with the hire bikes?
Our hire bikes come with helmet, lock, 1 spare tube (you will need to provide/buy any extra spare tubes), repair kit, multi-tool and tyre levers.
Where can I get Garmin maps of the UK?
We're told that you can download maps for your Garmin from the openmtbmap.org website. Please note any downloads you make are done at your own risk.
Can I ride a road bike on the C2C?
It is possible to ride a road bike along the C2C route, although extra care would need to be taken on some of the cycle paths where the surface may be more bumpy or more likely to cause punctures. We can advise on any detours that should be made.
Can we get dropped off/picked up in a different location?
We can arrange drop off and pick up before and after the trip to suit your travel plans. If the locations are different from our standard places then an extra charge might apply. Just let us know your ideas and we can tell you what is possible.
Can we do a shorter version/less days on the trip?
All of our trips can be tailor made for you. Sometimes the availability of accommodation is a factor in the distance you can travel each day but usually there are many options to change the trip to suit you. You can also skip days of the trip or change the route slightly if you don't have enough time to complete the whole route.
Can you provide padded seat covers for the hire bikes?
We can provide these on request or if you have one, you can bring your own.
Will there be a phone/internet signal?
Some of our cycling holidays and mountain biking trips pass through very remote areas of Scotland, England and Wales, and although there will usually be a phone signal at your overnight location, there may be extended periods of the trip that don't have phone coverage. Wifi is almost universal at most accommodations.
What meals are provided?
If you choose either B&B or hotel accommodation you will be provided with breakfast. Lunch and dinner are not provided but there will be places to buy lunch before you set off each morning or en-route. Your accommodation will be within easy walking distance of a pub or restaurant so you'll be able to buy a tasty, hearty evening meal. If you're staying in bunkhouses breakfast is not included but you'll have the option to cook your own food in well equipped kitchens. Food can be left in the support vehicle and dropped off with your luggage each day on our fully-supported cycling trips.
When will you send the GPS files of the route?
We will send the GPS files and maps for the route after we receive your final payment for the trip, 8 weeks prior to the start date.
Is transport to/from the airport included?
Unless specifically stated in the trip details this is not included in the standard trip cost but it is often possible for us to pick you up at a local airport, possibly for a small extra cost. Please ask about specific airports.
Do we have spares for different wheel sizes?
We carry spares for most basic problems for most bikes and have spare tyres and tubes for a full range of wheel sizes on all kinds of bikes. We are always increasing the number of spares that we carry as new products come onto the market.
What size of bag should I wear on the trails?
It is advisable to bring a small back-pack or pannier bag (between 15 and 20 litre capacity) with you on your cycling trip or mountain biking holiday, in which you can carry spare clothes and basic spares and tools that you might need during the course of a day on the bikes. In some cases, where you will be riding in wilderness for the full day, food and drink will also need to be carried.
Do I need to bring knee/elbow pads?
Unless you are used to riding with them or know that you fall off a lot, you don't need knee and elbow pads. Most of our mountain biking routes are cross country-biased and, although there are some rough and technical descents at times, most people don't find the need for knee or elbow protection.
Can we have an extra map of our route?
Our self-guided cycling and MTB holidays allow you to test your map-reading skills, although most people have gps navigation on their phones or gps unit, which makes navigation mush easier.
Image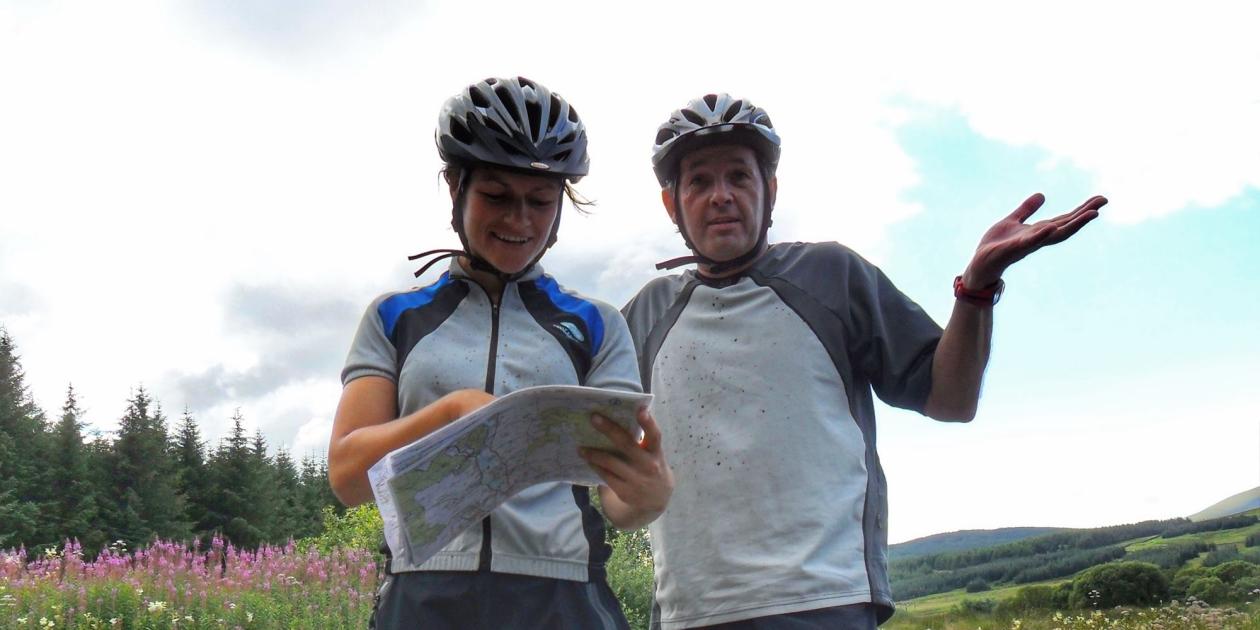 Image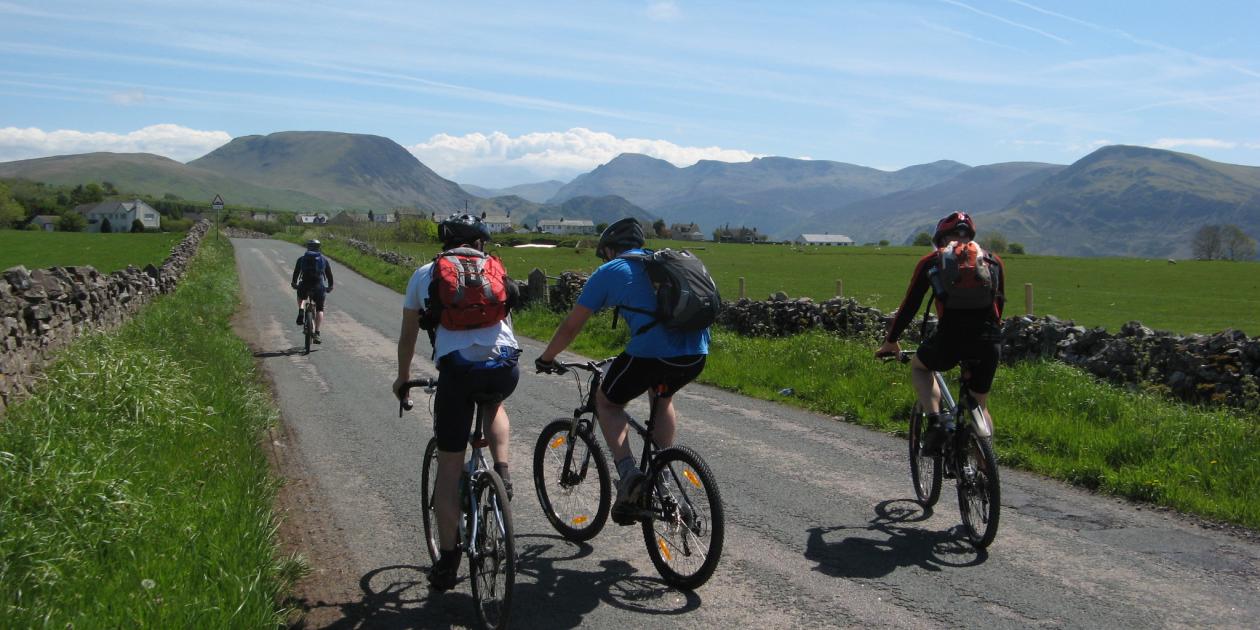 You should carry snacks and water with you, either in a small rucksack or panniers
Most of our cycling holidays are suitable for road, gravel, hybrid or mountain bikes fitted with smooth tyres. We can give you detours specifically for road bikes if required
Image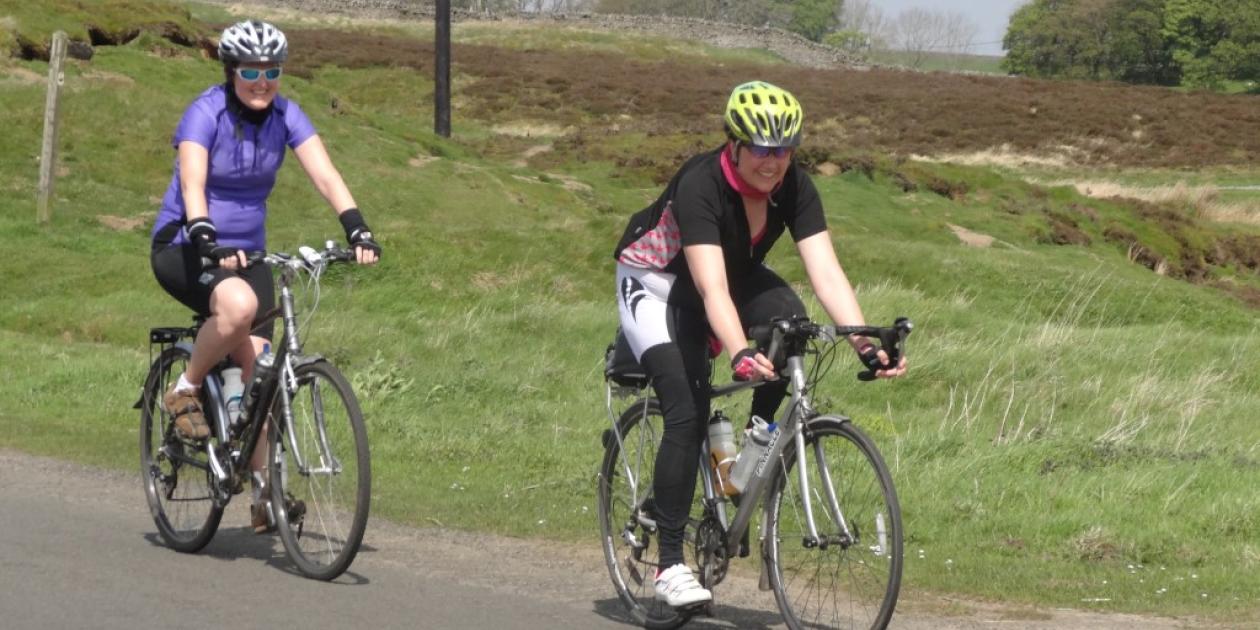 Image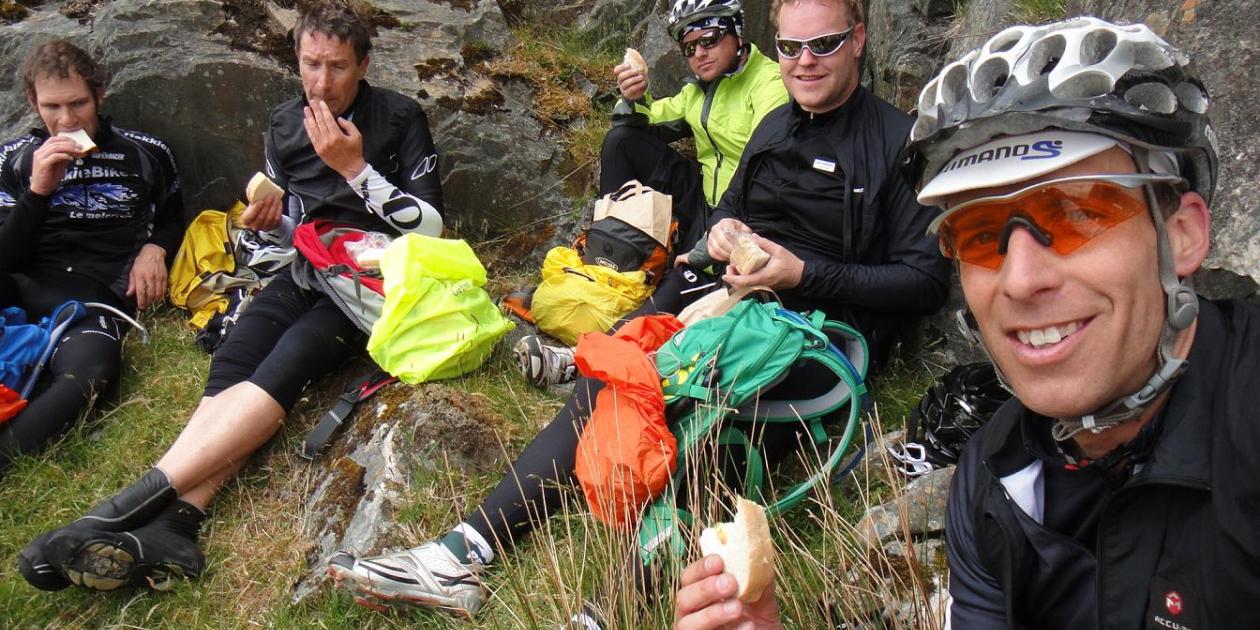 On some of our remote MTB trips you'll need to carry enough food for the day's riding
It's a good idea to bring some waterproof clothing in case the weather takes a turn for the worse!
Image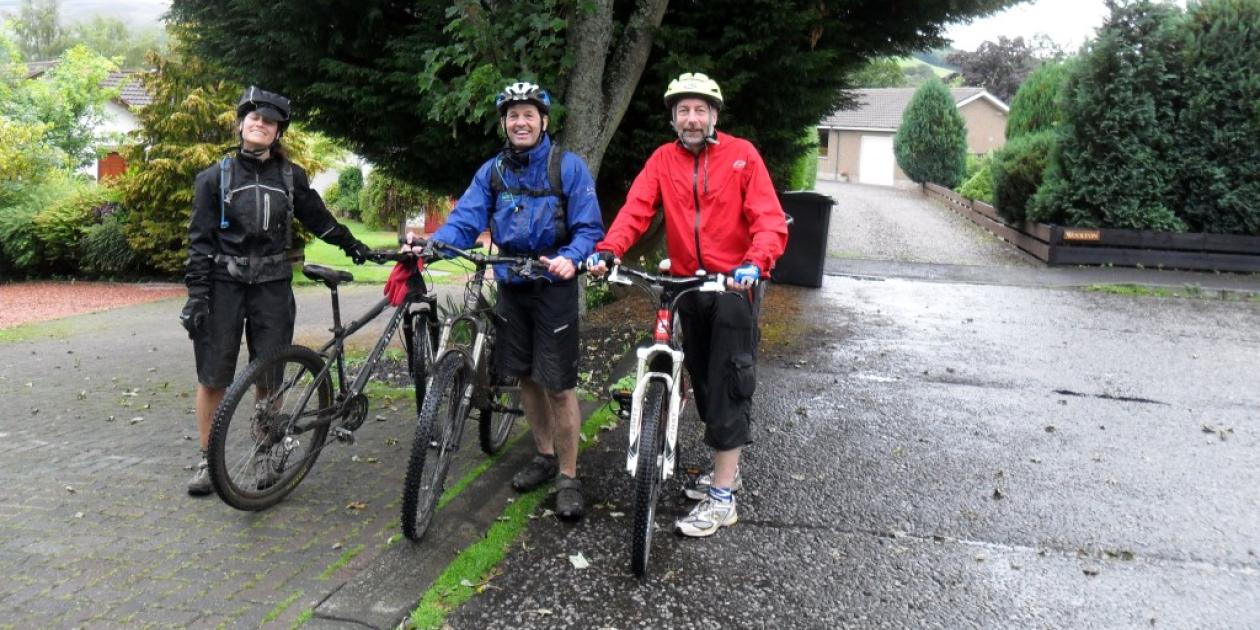 Image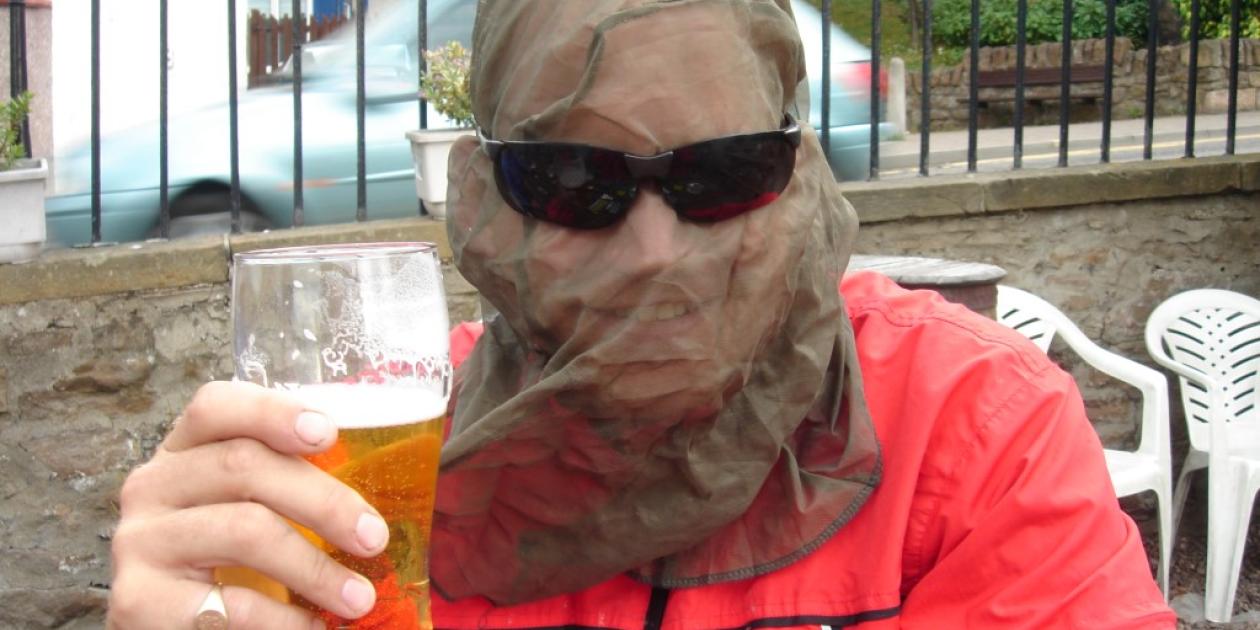 Midges can be a pest if you stay still for too long!
On our fully supported biking trips, our support vehicle is never far away
Image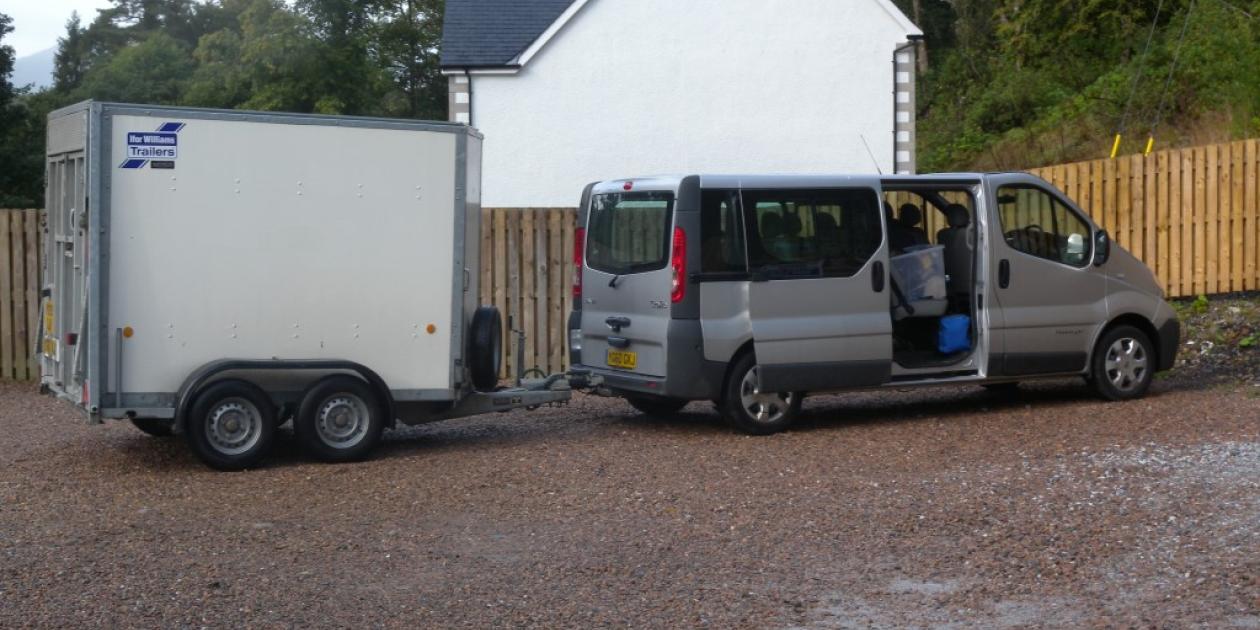 Image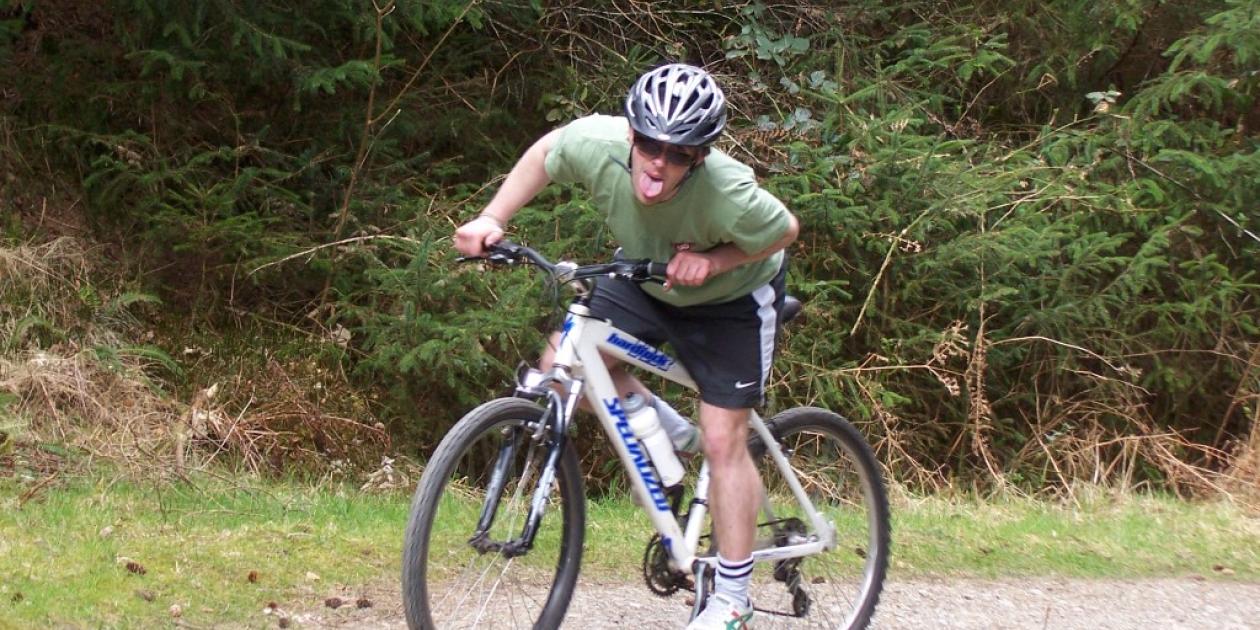 It's a good idea to do a bit of training to make your trip more enjoyable!
Laundry facilities are usually available at your accommodation which will usually cost about £10 per load
Image